There are plenty of raw materials that could be crushed into the sand in the artificial sand area, such as building waste, basalt, pebble, and a kind usual materials granite. As a result of many clients having consulted related questions and prices about artificial sand by granite, today, I will introduce more details about our granite crushing plant.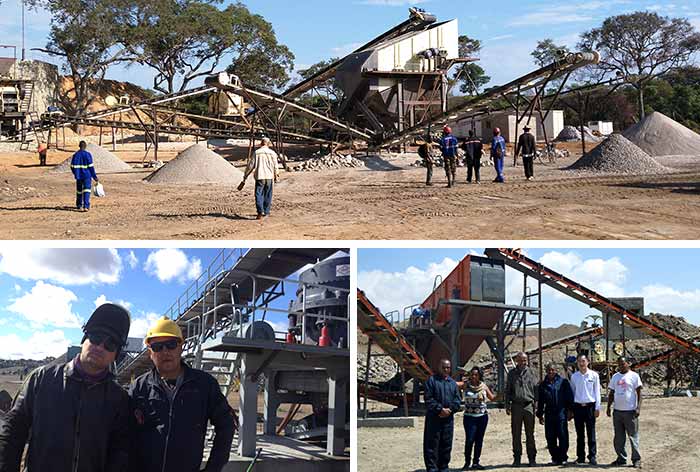 Specific Process
The production line of granite crushing and sand preparation includes feeding, conveying, crushing, sand preparation, screening, and other equipment. The specific production process is as follows: the granite is evenly fed into the jaw crusher through the vibration feeder for primary crushing, and then the crushed stone is transported to the secondary crusher ( cone crusher ) for the second crushing through the belt conveyor. The crushed stone is screened by the vibration screening machine. The stone that meets the size of the sand preparation particle will be transported to the sand preparation machine for crushing and shaping, and the stone that does not meet the requirements will be returned to the secondary crusher for further crushing.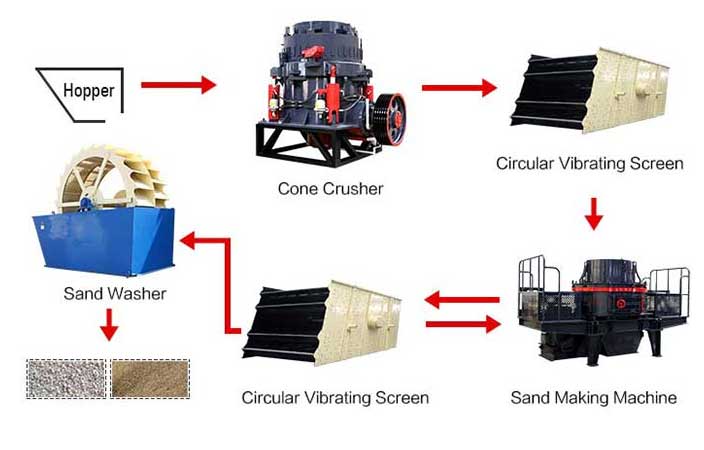 The weight of cubic granite is about 2.7 – 3.2 tons. If customers need the daily production line of 500 – 800 cubic, it is about 160 – 320 tons per hour ( taking 8 hours of work as an example ). It belongs to a medium production scale, and there are many production line schemes. Based on the production experience and technology of Henan Hongxing Machine for many years, several common production schemes are introduced for users:
Scheme 1: 200t/h Sand Production Line
Feeding size: ≦630mm
Specification of finished size: 0-5,5-10,10-20,20-30,40-80mm
Specific Equipment: ZSW490×110 vibrating feeder, B1000×22 meters conveyor, PE-750×1060 Jaw Crusher, B1000×24 meters conveyor, HXGYS400 Cone Crusher, B1000×24 meters Conveyor、HXVSI-1140 Sand Making Machine, B800×27 meters Conveyor, 2YK2460 Circular Vibrating Screen, B500×15 meters Conveyor, etc.
Predicted investment:1.83 million RMB
Scheme 1: 300t/h Artificial Making Line
Feeding size: ≦200mm
Specific Equipment: ZSW490×110 Vibrating Feeder, B1000×22 meters Conveyor, HP300 Cone Crusher, B1200×37 Meters Conveyor, 3YK2870 Circular Vibrating Screen, HXVSI-1140 Sand Making Machine(3), B800×24 meters Conveyor(3), 2YK2460 Circular Vibrating Screen(3), B500×15 meters Conveyor, XS3500 Sand Washing Machine(3), etc.
Predicted Investment: 3.06 Million RMB
How Much Is a Set of The Sand Production Line?
According to the above introduction, the configuration schemes of the granite crushing sand production line are various. Different types and models of equipment can constitute different production lines. Users have distinguished demands that are different, forming distinguished configurations, so do the different output and feeding sizes, requirements of sand washing with different investment costs. If you want to know the investment cost of the crushing sand production line, you can directly consult us online. The manufacturer and technical personnel will combine your actual situation to customize a suitable selection scheme for you, and accurately evaluate the production line.